| | | |
| --- | --- | --- |
| | RIDE SCHEDULE | |
FOR
July, August & September 2001
---
Please note: HELMETS are now MANDATORY for all rides!
TERRAIN
F = Flat with a few easy grades
R = Rolling hills with enough flat places to provide relief
H = Hilly, steep grades with some relief
S = Steep, for strong riders


PACE
L = Leisurely with plenty of rest stops. Riding speed 10 to 12 mph
M = Moderate with occasional rest stops. Riding speed 12 to 16 mph
B = Brisk with fewer rest stops. Riding speed greater than 16 mph


Please note: If there is a question of bad weather, call the ride coordinator whose number is listed with the ride description [only the printed copies of the ride schedule contain phone numbers - web ed]. If you get no answer, (s)he is at the designated meeting area!!!
JUNE 17 (Sun) - Where's Wyben?? R-H/M/35 miles. Where's Wyben? Come on this "wyde" and find out. We will have a real lunch stop and a delightful orchard. Meet at the Big Y parking lot (on Rt. 10) on the Easthampton/Southampton line at 10:00 AM. Bring plenty of water - this ride is RURAL!!
COORDINATOR: Charlie & Eileen Meyers
Steady rain from 6:30 - 11:00 AM this morning so I'm guessing the ride was canceled.
JUNE 24 (SUN) - Vinskey's Beach Ride. R/M/35 - 40 miles. Meet at Lake Wyola State Park at 9:30 AM Sharp! There will be a $5.00 parking fee at the State Park. Bring your bathing suit and picnic food for a potluck picnic after the ride.
COORDINATORS Pat & Mike Vinskey
Damp start, but this turned into a nice sunny day.
JULY 1 (Sun) - POTLUCK PICNIC, AND RIDE EXTRAVAGANZA! The headquarters will be the Mill River Recreation area off Rt. 63 in North Amherst (on right ¼ mile north of the church at the lights). The FHF will provide Beverages, Ice and Utensils; Please bring a POTLUCK DISH in your own cooler. The coolers will be placed on tables at the recreation area or left in cars until all riders are back.
The Ride: AROUND POCUMTUCK - NEW VERSION; F-R/L-M/43 miles. The ride begins along one side of the Connecticut River and crosses over to visit Old Deerfield then proceeds through S. Deerfield, Whately and Hatfield before returning to the other side of the river. The ride will leave PROMPTLY at 11:00 AM from the Mill River Recreation Area Parking Lot.
The Potluck: Food will be served at 3:30 PM or when the riders return. (Whichever occurs first.) If the weather is foul, we'll take shelter under the Pavilion and start the proceedings at 11:00 AM for a LUNCH Potluck. If we can't ride, we can always EAT!
COORDINATORS: Bob Kowaleski and Sally Peters
Well, as advertised, this ride left PROMPTLY at 11:00 AM (some riders started before that). Unfortunately, I started PROMPTLY at 11:05 AM, and, despite maintaining a 17-mile per hour average speed (near 20 MPH for the first few miles), was unable to catch the "peloton" until the regroup at mile 19.5. There seems to be an increasing trend of riders very quickly getting up to "cruising" speed immediately after leaving the parking lot. This is really kind of annoying. It would be nice if, when the lead group starts out, they could keep the pace a little slower for the first mile or two to allow most of the people to start the ride together. I am reminded of this years AROUND THE RANGE ride which featured 2 traffic lights within the first mile of the start. Green means go and anyone who got stuck at a red light was left in the dust.
Otherwise, the day was hot and sunny, but the ride was fairly flat and the rain didn't start until after the potluck was finished (a little after 4:00 PM). We had a nice tailwind on the way up to Greenfield, but had to deal with a headwind on the return trip. The potluck featured some nice fruit salads, a few pasta dishes and a number of desserts.
JULY 8 (SUN) HILL & DALE; H-S/M/50 miles. Meet at the new Hadley Elementary School on Rt. 47 North of Rt. 9 in Hadley. Ride leaves at 9:00 AM. This will be a multi-Club with the Cyclonauts Bike Club. We will be riding up to the beautiful scenic hills of Conway, Shelburne (past Bill Cosby's House) and back down to Greenfield. Food stop in S. Deerfield. Bring water and snacks as the route is rural and there are no stores.
COORDINATOR: Walt Chudzik
Damp start, gradually drying out, but cloudy all day.
JULY 15 (Sun) - Steve & Ann Schwartz's Southampton - Southwick Shuffle; R/M/50 miles. The ride will tour through the Southwick area with a post ride potluck picnic and meeting. There will be hotdogs and hamburgers provided. Bring other picnic food and meet at Steve & Ann's house in Southwick at 9:00 AM.
Call or e-mail them for directions. COORDINATORS: Steve & Ann Schwartz
JULY 22 (Sun) - Back Roads to Quabbin Summit; F-R/L-M/52 miles. We will ride mostly back roads to the Quabbin via S. Hadley, Granby, Belchertown etc. with a stop at a Subway in Bondsville for those that want to pick up a lunch to be eaten at the Summit. Meet at the Grossman's Bargain Outlet (former Big Y) shopping center Rt 33 Chicopee, (across from Jiffy Lube). Ride leaves at 10:00 AM SHARP
COORDINATOR: Ken Paquette
JULY 22 (Sun) - Tour to Windsor & Savoy; 50 to 60 miles. Hilly. Enjoy a new ride up the first part of Skyline Drive, thence to Peru, Windsor and Savoy. After a flat start, most of the altitude gain will be in steps from approximately mile 2 to 12 while you are still full of energy. Lunch is at a store in Windsor. Meet in Huntington, MA: Heading west on MA Rt 20, go past the junction with Rt 112; just past the junction, there will be a white gazebo in front of some buildings, make a right turn at the next road, go around behind the buildings, find parking. Ride leaves PROMPTLY at 9:30 AM. Rain cancels.

JULY 29 (Sun) - Joyce & Fred's B-M-B; H/M/50 miles. Ride through Belchertown, Monson & Brimfield on this new, hilly ride designed for hill climbers. (Good training for Mt. Washington entrants and wannabes.) Bring lunch and lots of water; also bring low gears, oxygen and an anti-gravity device. Meet at the CVS parking lot in Belchertown at the intersection of Rt. 9 & Rt. 202 at 9:00 AM.
COORDINATORS: Joyce and Fred Morris
AUGUST 5 (Sun) - LEVERETT LAYOUT; R-H/L-M/30 miles. Meet in the parking lot at the Fort River School in Amherst. The school is on S. East St. between Rt. 9 and Main St. Leave at 9:00 AM Sharp or be left behind! We'll be riding scenic back roads through the rolling hills of Leverett. We will stop at the Village Co-op for lunch and/or snacks.
COORDINATORS: Pat Vinskey and Elaine Stafford
Despite the severe warning, this ride did not leave at "9:00 AM Sharp". Suzanne used her presidential clout to delay the start until 9:10 to wait for her husband, Jack. However, this did allow all 22 riders to be ready and waiting for the ride to start. Being that this was a short ride, and with the inevitability of losing our cloud cover by noon, on what promised to be a hot and humid day, the pace of the peloton was quite brisk. An excellent ride overall.
AUGUST 12 (Sun) - ROWE ROUND-ABOUT (I've looked at Rowe from both sides now); R-H/M/38 miles, 2500 feet of climbing. This will be a very scenic ride on remote back roads. Be sure to bring munchies, lots of water AND a lunch. Meet at 10:00 AM at Shunpike Roadside Rest Area beside the Deerfield River on Rt. 2, one mile west of Charlemont. We'll bike UP Zoar Rd. to Rowe and on UP into Vermont, eat lunch at the Whitingham Common (No STORES), continue on to Readsboro, and back down into Mass. along the Deerfield River, past the RETIRED Yankee Rowe Atomic Power Plant in Rowe and the Hoosac Tunnel in Florida.
COORDINATORS: Jack & Suzanne Fitz-Gibbon
Rainy most of the morning...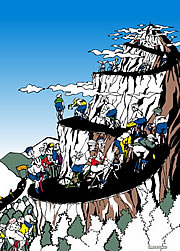 AUGUST 19 (Sun) - OPEN DATE - Show & Go ride from Mt. Sugarloaf. Meet at 10:00 AM in the Mt. Sugarloaf parking lot in South Deerfield off Rt. 116 just across the Connecticut River from Sunderland center. Those present will decide upon route and distance.
Sunny, 80's. I counted 15 people, including 1 tandem. We decided on a variation of the ride to McCusker's. When we got to the first regroup in Conway, 6 riders decided to follow the traditional route and continue on Rt. 116 to Ashfield, then down to Shelburne Falls. The other nine of us headed up Shelburne Falls Road, the more direct way, shaving 5 miles off of our total distance. We arrived at McCuskers about 25 minutes sooner than the other group. After lunch, we headed back down Shelburne Falls Road and down through Whately and back to the parking lot.
AUGUST 25 (Saturday) - Mt. Washington Hill Climb - only one hill! FHF riders Doug Aspinwall, Jack Fitz-Gibbon, John Fitzpatrick, Theresa Lak, & Joyce Morris will be there and maybe others that I'm not aware of. Give them all a cheer!
Official results:

| | | |
| --- | --- | --- |
| Name | Place | Time |
| John Fitzpatrick | 46 | 1:10:34 |
| Doug Aspinwall | 137 | 1:18:19 |
| Jack Fitz-Gibbon | 462 | 1:52:31 |
| Joyce Morris | 463 | 1:54:08 |
| Theresa Lak | 483 | 1:59:04 |
AUGUST 26 (Sun) - COMMON TO COMMON AND STORE TO STORE; R-H/L-M/40 miles. An uncommonly good ride; you'll like it. We'll ride on scenic, lightly traveled country roads and visit Petersham Common (and Country Store), Hardwick Common (and General Store), Barre Common (and Jackie's Country Kitchen) and Templeton Common (and the Ice Cream Barn). Then we'll ride back to Petersham Common (and its Country Store) You won't go hungry! Meet at 10:00 AM at the Petersham School near the Common. (Just north of the intersection of Rt. 122 & 32 - northeast of the Quabbin Reservoir).
COORDINATORS: Al Shane & Marion Gorham
Weather-wise this was a perfect day for biking for the 14 riders (no tandems) that came on today's ride. Sunny, in the 70's, low humidity, and a slight breeze. This is actually a fairly hilly ride, no long uphills, just a lot of little ones, so the re-groups every ten miles were quite welcome.

There were a few mishaps on today's ride. The first occurred to yours truly. About 6 miles into the ride, while standing on one of the many uphill climbs, I heard a small snap, then noticed that my tire was rubbing the brake pads and was no longer true. I stopped to check and found that I had broken a spoke on the rear wheel. I was able to remove the spoke, adjust the surrounding spokes a bit and complete the ride. Later in the ride, while climbing another hill on Rt. 101 up into Templeton, my wife caught her bike in a pothole and did one those slow-motion, falling-over things. Kind of like the way Arte Johnson did on "Laugh-In". Fortunately, she didn't break anything (like a heel bone) and escaped relatively unscathed. The only casualty appears to be a Velcro strap that holds on her bike mirror. As an aside, that section of Rt 101 in Templeton is one of the worst roads I have ever been on (in terms of potholes and broken pavement). I would think anyone working for the town would be embarrassed to admit it. And don't give me that "we don't have any money because of the Big Dig" baloney. That road doesn't look like it's been paved in 40 years, and obviously no one has been doing any kind of yearly maintenance (like spreading that tar stuff on the cracks) to try and make the road last longer. Once we crossed the town line into Philipston, the road was perfect.

Overall, the ride was quite nice. P.S. Yes, "Old Home Days" was being held at the Petersham common, again.

SEPT. 2 (SUN) - LABOR DAY WEEK-END SHOW & GO. Meet at 10:00 AM at the Mill River Recreation Area off Rt. 63 in North Amherst (on right ¼ mile north of the church at the lights. Those present will decide upon route and distance.
Sunny, 61° to start, 80's by the end, very nice day. Eleven of us left the parking lot at 10:15 AM for a 50-mile ride. We headed north up Rt 63 to Northfield, took Rt 10 over the Connecticut, and came back down to Deerfield, crossing the Connecticut again on Rt 116, then back.

The group got strung out fairly quickly and we "lost" two riders climbing out of Amherst up to Leverett. The group stopped at Northfield Mountain to use the facilities, we were there at least 15 minutes, but the two "lost boys" never showed (sorry guys). We lost another rider in Turners Falls. During our "lunch stop", my wife noticed her rear shifter cable was fraying (I examined it later at home and saw that all but 4 of the 17 wires that make up the cable were broken!) Fortunately, we were only about a mile from our house at the time, so she headed home. Roger and I, having gotten separated from the group at this point, tried to catch the remaining 6 riders, but to no avail. We reached the parking lot about 5 minutes too left.

Another excellent ride, and good training for the coming centuries.

SEPT. 9 (Sun) OPEN DATE (Unless someone fills it at the meeting in Southwick) - Show & Go ride from Mt. Sugarloaf. Meet at 10:00 AM in the Mt. Sugarloaf parking lot in South Deerfield off Rt. 116 just across the Connecticut River from Sunderland center. Those present will decide upon route and distance.
Sunny, in the high 80's, with the fog dissipating right around 10:00 AM. Bob Kowaleski showed up with a cue sheet for a 40-mile ride down to Easthampton and back through Williamsburg, with a lunch stop at the general store. After lunch, we picked-up the COVAC route where it crosses Rt 9, and followed it down into Whately where we veered off and came back up River Rd. Sixteen riders showed up for, and enjoyed, this fairly uneventful ride.

Well, unless you include the part where John Marcil locked his helmet and keys in his car. Fortunately, Pat Vinskey let John borrow her universal emergency repair kit (cell phone) so John could call AAA (which I used to think was an organization for helping serious alcoholics). But that happened before the ride started so I don't think it should really count. I mean otherwise we'd have to include how my bike mirror fell off in the center of Greenfield while I was riding down to the start of the ride and had to go back after it when I finally realized it was gone.

But as for during the ride, there wasn't really...well, there was this minor incident on River Road approaching Hamp. As we were overtaking 3 other cyclists, there was this section where the road was dug up. Julie hit it hard and flatted her front tire. One of the cyclists from the other group lost control and crashed. All of us stopped and watched David Dunn fix Julie's tire, amazingly, without the use of a cell phone.

But, I mean, other than that...oh, all right, there was another incident going through Smith College. Fred failed to negotiate a speed bump and crashed, bouncing his helmeted head off the pavement. Fortunately he was okay except for some torn clothing (and handlebar tape) and some fairly impressive road rash on his elbow, hip and shoulder. At least he followed my advice. If you're going to fall, and you're right-handed, then fall on your left side. Good job, Fred!

As we arrived at the lunch stop, we found a small group of women cyclists trying to fix a flat tire. Once again, David Dunn came to the rescue and was able to fix the tire. Fred & Joyce went to the store across the street to patch Fred up with bandages. John Marcil, now wearing a helmet, caught up to us at the lunch stop (after passing us going the other direction and then taking a wrong turn trying to catch back up).

However, after the lunch stop not much happened...well, except for when this van coming towards us, being driven by some young girl, tried to take a left turn right in front of us. Gary had to swerve to avoid her. I stared at her and gave her a disapproving look and asked her, rhetorically, what the heck she thought she was doing. Joyce actually used the 4-letter F-word! She called the girl a "fool"!

After the ride was over, however,...well, it seems Roger Katz had also locked his keys in his truck! Roger was determined not to use Pat's universal emergency repair kit. It was a group effort taking about a half hour or so, but we managed to persevere. Using sticks, tire levers, an old coat hanger, a Leatherman tool, a lot of banging and some good ol' Yankee know-how, we were able to gain entry and extricate the keys from the vehicle. Before disbanding, we decided to stop at Sugarloaf Frostie for some much-deserved ice cream. Again, not much to tell except when Fred & David decided to sit down at the same time at one end of the picnic table and almost catapulted Julie into the middle of Rt 116.

See you all again next week for another fun-filled day in the saddle!

SEPT. 16 (SUN) - COVAC (COnnecticut VAlley Century) - Has a NEW starting place at the JFK Middle School on Bridge Road in the Florence section of Northampton. FHF is offering rides of 100, 75, 50, or 28 miles along the Connecticut River through Mass., Vermont, and New Hampshire over rolling terrain. Registration will cost $5.00 for FHF members and $10.00 for NON members. THERE IS NO PRE-REGISTRATION and NO MASS START! The fee will cover map, juice, bagels, newtons, fruit and sag stops. Registration will start at 7:00 AM and continue until 8:30 AM at the JFK Middle School on Bridge Road in the Florence section of Northampton.
From the South, take I-91 N to Exit 19. Go STRAIGHT at the end of the off ramp onto Damon Road. Continue STRAIGHT at the next set of lights onto Bridge Rd. JFK Middle School is on the right - 3.2 miles from the end of the I-91 off ramp.
COORDINATORS: Pat & Mike Vinskey
Picture perfect weather for this great ride. Sunny all day with a little fog in the early morning. Around 40° at the start of the ride, around 75° at the finish. We received quite a number of positive remarks about the ride and how well it was organized. A ballpark estimate shows about 150 people participated in this years ride. A few people chose the 25-mile option, about a dozen did the 50-miler, one or two did 75, and the rest went the full distance. The FHF would like to thank all the riders who came to join us today and we hope to see you all next year.

We would also like to give a special thanks to those riders who gave us a little extra cash at the registration table. A portion of the proceeds of this ride will be donated to the American Red Cross in NYC.

SEPT. 22 OR 23 (SAT or SUN) GRANITE STATE WHEELMEN'S SEACOAST TRI-STATE CENTURY - an invitational 100, 75, 62, 50, or 25 mile ride along the Mass., NH., and Maine Coastlines on relatively flat terrain. Pre-register and pay only $15.00 and get a T-Shirt. Sign-in starts at 7:00 AM at Hampton Beach State Park, Rt. 1A, Hampton Beach, NH. The registration fee will cover parking at the State Park, route maps, sag wagon coverage, rest room facilities, & trip time log, and a $1.00 donation to the LAB's Bicycling for Bicyclists education fund. Total cost per person for one day or BOTH is $15.00, pre-paid, non-refundable. The event will be held rain or shine -- no rain dates! Contact GraniteStateWheelmen.org for pre-registration information.