Here it is - another issue of our Newsletter. This issue covers June through August - our summer season. Thanks to all who contributed ride reports and any other articles. If I didn't include your article, it will probably appear in a future issue. Meanwhile, ride coordinators, please send me your signed releases whether or not you write a report.

Our next Newsletter will cover our fall (perhaps I should say autumn) activities: September through November. The due date for ride reports and articles will be immediately after the last scheduled ride, but sooner is better. The winter issue will probably be a pot-pourri of contributions: vacation activities; winter activities; specials; whatever the mail contains (hint, hint).

A hearty welcome to all new members and a message to all members: "Happy cycling!" Perhaps I should add, "Happy eating." Our potlucks are the greatest! This newsletter may or may not arrive before the next one. &nbsp&nbsp&nbsp&nbsp&nbsp&nbspTHE EDITOR [Marion, not me - web ed.]

&nbsp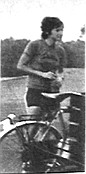 Carol Anne Tesiero
Carol Tesiero, former member of the FHF, an avid cyclist, who commuted to work as well as riding with the Freewheelers, died September 3 after a long illness. Carol resided in South Amherst with her friend, John Fitzpatrick, before brain surgery, chemotherapy and radiation made it necessary for her to return to her home in Richmond VA. Our condolences go to John in the loss of his friend, Carol. Memorial gifts may be made to The Brain Tumor Research Fund, MCV Station, Box 980631, Richmond, VA 23298, or to the Television Ministry, First Baptist Church, 2709 Monument Ave, Richmond, VA 23220. Rest in peace, Carol - or ride your bicycle "all over God's heaven"!
---
SECRETARY'S REPORT
Minutes of the Meeting of June 14, 1997
at the Fitz-Gibbon's house
Sixteen FHFers attended the delicious potluck dinner and meeting. President Jack Fitz-Gibbon called the meeting to order at 7:50 p.m.
Treasurer's Report: Al Shane reported that the club had $[ ] in the treasury.
Biking Brochures: Marion announced that, as usual, she had received a number of brochures about bicycle rides and tours, and she laid them out for any interested person to take.
Century Rides: The Connecticut Valley Century (COVAC), a 100-mile bike ride sponsored by our club, will be on Sunday, September 7. People who are willing to be volunteer workers on the 7th (registration, refreshments, etc.) will ride the weekend before that, probably on Sunday of Labor Day weekend. Volunteer workers will be rewarded with a hot tub and potluck dinner at the Vinsky's.
The Tri-State Seacoast Century sponsored by the Granite State Wheelmen will be on September 20. Most FHFers stay at the Hampton Beach [ ], and this year the Cyclonauts plan to stay there too, so Sally warned us to make our reservations early in order to be sure to get a room.
Rides Schedule: Sally got out her calendar and opened the floor for volunteers to lead rides. Without even twisting any arms, she managed to fill-up the calendar from July to September 20.
The Don Maynard Memorial Ride: 44 People rode on June 8, donating $212 for the Greenfield Bikes for Kids program. It was a perfect biking day, sunny and nice. It was reported that some of the cyclists raced the train (the Vermonter) to the crossing. Larry Selsky, a former FHFer, showed-up for the ride.
Mountain Bike Races: Barbara Rich talked about the Thursday night mountain bike races at Nonotuck park in Easthampton. It is a ten-week series. They start at 6 p.m. at it costs $6 to enter. There is a staggered start, and racers may do 1 to 4 laps. The last one will be on August 28.
Next Meeting: The next meeting will be on Saturday, September 13th, at Pat & Mike Vinsky's house.
Respectfully submitted,&nbsp&nbsp
Julie Miles, Secretary&nbsp&nbsp&nbsp&nbsp
---
RIDE REPORTS
June 8 - THE DON MAYNARD MEMORIAL GUILFORD CONNECTION - The weather was beautiful for this popular ride designed by equally popular fellow cyclist Don Maynard, now deceased but still very much alive in our memories. Don's parents and siblings were there to see us off, as they have been since the first memorial ride. There were 44 riders and $200 was collected in Don's memory (including one $50 bill) to be donated to the Kids on Bikes fund. And so Don lives on! I think he would be pleased.

Marion Gorham&nbsp&nbsp
June 15 - WIBRAHAM EXPRESS - Twenty riders enjoyed an absolutely beautiful late Spring day for this 38+ mile journey from Wilbraham through Monson to Wales and back. Temperatures remained in the middle 70's, with low humidity and little wind - perfect weather for this hilly (Joe Pitchko's term, so you know it must be true) ride through eastern Hampden County.
&nbsp&nbsp&nbspThe riders began climbing immediately on a four mile climb up to Wilbraham/Monson Road, then followed the rolling terrain into Wales. Our cue sheets were a little out of date; the Lake George Variety, the scheduled lunch stop, is no longer there and has been replaced by a small package store. And, I do mean small; all they sell is beer, cigarettes and newspapers, none of which seemed to appeal to any of the assembled crowd. A substitute lunch stop was found down the street in Wales by the shores of Lake George. While at the rest stop, traffic was interrupted by a procession of ducks crossing the road, which caused a minor traffic jam.
&nbsp&nbsp&nbspThe return trip to Wilbraham followed some beautiful, if uneven, back roads with some beautiful scenery. The Club president did battle with a "ferocious" collie, who decided to give chase. Fortunately, it was on a downhill and I'm happy to report the president escaped unharmed. Dale Lougee was sidelined for a short while with a flat tire. Other than that, there were no reports of mishaps.
&nbsp&nbsp&nbspAll riders selected the shorter, but much steeper "Option A" end to the route, which involved a steep climb and an absolutely magnificent downhill. Reported speeds on the return trip topped 50 mph.
&nbsp&nbsp&nbspThis ride has been missing from the Club schedule for the past couple years. I think that most of the people who rode this particular day would agree that it should become a staple of the ride schedule; it truly is a classic.
Jack Fitz-Gibbon&nbsp&nbsp
June 29 - HILL AND DALE - Twenty-five riders started from the Hadley Village Barn Shops on a beautiful sunny and warm day. This was a multi-club ride with the Cyclonauts Bicycle Club. Our 50-mile ride passed through Northampton, Whately, Conway, Shelburne, Greenfield, Sunderland and Hadley. After a regroup in Conway, we had 19 riders????. We then continued to Bardwell's Ferry and passed by Bill Cosby's house but no one was home to offer refreshments. Maybe next time. The scenery was great and the final descent was a breeze. From all reports, everyone enjoyed the ride and this scenic route.
Walt Chudzik&nbsp&nbsp
July 12 - CONWAY CONNECTION - It all began very dark, then as the sun rose, a beautiful day appeared for one of the Freewheelers' hill-town classics. 15 people showed-up for a Saturday morning of cycling. As the group took-off, Rob Young, a new member this year, caught us to make it an even 16.
&nbsp&nbsp&nbspOur group was comprised of eight riders on tandems and eight on single bikes, each and everyone of us out for a good time. We climbed out of Williamsburg and into Ashfield and Conway. After enjoying a short regroup, Route 116 and its long steady downhill was all that stood between us and ... lunch!
&nbsp&nbsp&nbspThe pedal back to Williamsburg included a section of dirt that was mandatory and another that was optional. Back at the starting point, everyone seemed to agree that it was a good day to ride.
Marthe & David Young&nbsp&nbsp
July 20 - SHOW AND GO ICE CREAM RIDE - Although the title and description emphasized our ice cream, only three of the sixteen riders ate ice cream at Atkins Farms Country Market. None had ice cream at our previous stop in South Hadley. So much for ice cream rides! It seems our taste has changed or we've all become nutrition-conscious.
&nbsp&nbsp&nbspFour tandems and eight single bikes comprised the group. [deja vu? - web ed] The humidity has disappeared. There was a comfortable breeze (which might have been called a headwind depending on one's direction). It was a beautiful day!
&nbsp&nbsp&nbspAlthough the group pretty much stayed together on the way to South Hadley, it fell apart on the way to Atkins, mainly because al & Marion's chain fell apart - not once, but twice, and their front derailleur was acting-up. Part of the group went around the range and part stayed with Al and Marion and took Rt. 116 over the notch arriving at Atkins only minutes before the first group.
&nbsp&nbsp&nbspReunited, the group lingered at Atkins, as they had at the Tailgate in South Hadley. This was a totally laid-back group and nobody was in a hurry to go fast or get anywhere. Finally, everybody went off in different directions. Some went back to the ride start, some lengthened the ride, and some rode home. The ride had varying lengths for various people.
&nbsp&nbsp&nbspIt was interesting that, at the planning meeting, no one volunteered to lead this ride, yet 16 showed-up, many of whom had been at the meeting, including yours truly. Oh well, all's well that ends well, and despite the broken chain and troublesome derailleur, Al and Marion, accompanied by Jerry, who was ready to go ahead and get the van if need be, made it home alright. However, Al owes Von Creek two chain links. I won't let him forget, Von.
Marion&nbsp&nbsp
Aug. 3 - RING AROUND BELCHERTOWN - Joyce and Fred's first anniversary ride on their Bianchi's assembled in front of Belchertown's new "Love Bagel, Love Bread" store. There riders met Proprietor, Dr. Robert Roberts (reportedly, an Australian neurosurgeon) who, for his second life, dispenses free heart-shaped bagels Sundays, 7 to 11 am. The ride was advertised in a Worcester paper and drew a first-timer with us, Pat Bock, from Hardwick (albeit a B-town HS graduate). "Up and Down" our B-town west of Worcester started down Bay Road, wound round local lakes, climbed Gulf Rd. past Knight's Dam, paused after two hours and climbed for snacks at the Quabbin Tower looking down, and North, up Boston's Reservoir. The afternoon [we] descended Dam Goodenough and out the Quabbin, rolled-off Rt. 9, meandered 'round the State hatchery under canopied backroads past country farms and homes. All 19 riders ended coasting down Main St., filing into the CVS parking lot after 40+ miles. No rider was seen to take ice cream from Hawley's or Mickey D's [?]; instead, all stood and schmoozed while replacing liquids with chilled power drinks standing between CVS and an empty B-town storefront. The tandem that is Pat and Mike Vinskey gave the ride an 8 on a 10-point scale, Julie Miles rhapsodized over the "awesome" and speedy downhills, and "rabbits" Joe Pitchko and Brian Geddes acknowledged, "Nice ride", as they mounted-up to ride home to Easthampton. Thanks y'all.
Fred and Joyce&nbsp&nbsp
Aug. 10 - ROWE ROUNDABOUT - It was a hot and humid day as 17 riders made this 38 mile circular journey from Charlemont, up through Rowe into southern Vermont and back again. John Fitzpatrick and Brian Geddes led the charge UP Zoar Road into Whitingham, where all members of the group rejoined for lunch at the base of the Brigham Young monument. Water was definitely in great demand as the heat factor rose throughout the early afternoon.
&nbsp&nbsp&nbspThe return trip to Massachusetts passes the now decommissioned Yankee Atomic Power Plant and through some absolutely lovely scenery along the Deerfield River. Dale Lougee and several riders made a stop to inspect the Hoosac Tunnel, while the remainder of the group rode on to observe the rapids at Zoar Gap. There were quite a few canoers and kayakers demonstrating their skills through the rapids in this area.
&nbsp&nbsp&nbspThere was one minor mix-up. Apparently, this ride was listed in the Yankee Pedalers news magazine as scheduled for August 17th. This may have reduced the number of riders. Nevertheless, this ride, which has been a staple of the schedule since I've been a member of the club, is an absolute classic. Despite the initial effort of the 12-mile climb at the beginning of the ride, all riders were rewarded with a beautiful descent into Reedsboro and beautiful scenery through Zoar Gap.
Jack Fitz-Gibbon&nbsp&nbsp
Aug. 24 - COMMON TO COMMON - This was a first time ride for the club but judging from the after-the-ride comments it won't be the last. Al has come up with another winner. He designed the ride and we invited Jerry Weinstein to ride it with us. Jerry liked it so much he led an unscheduled ride with a few club members on it. They liked it. [hey Mikey] We scheduled it and now it's official.
&nbsp&nbsp&nbspWe had 26 riders, including three from Vermont, on an absolutely beautiful day! Not even finding that we couldn't park at Petersham Common marred it. We were redirected to the Spring Street School by the police and that was a perfectly fine place to park since it was on our route. The only problem was that it confused latecomers but they, too, were redirected, found the cue sheets under the windshield on the back of our van and caught-up with us on the Barre Common in time for lunch.

Commoners on the Common - Al Shane, Marion Gorham, Mike & Pat Vinskey on Barre Common.

&nbsp&nbsp&nbspHardwick Common and the General Store was our first stop, Barre Common our second, Templeton Common our third, and Petersham Common could have been our fourth but we left it to the natives and biked on by and back to our parking space at the school. We even passed-up the Petersham Country Store. We had enjoyed ice cream in Templeton and weren't in need of further refreshment. By the way, the Ice Cream Barn in Templeton has a perfectly scrumptious new flavor that several of us enjoyed - Moose Tracks - vanilla ice cream with peanut butter, caramel and huge chunks of chocolate. As Al said, "If anyone goes hungry on this ride, it's their own fault".
&nbsp&nbsp&nbspIt's a great ride. We had a great group. The weather was perfect. What more can one ask?

Marion&nbsp&nbsp

August 31 - SHOW & GO - Six riders showed-up: Brian; Roger; Kirti; Julie; Bill Schafer; and Jon Marcil. All agreed on a ride through Whately and Deerfield, with a lunch stop in Old Deerfield. Without cue sheets, there was at least one ambiguous turn and 3 riders went one way and 3 riders went another, but a good ride was had by all.

Julie Miles&nbsp&nbsp