---
All the news that's fit to print and then some.
---
FROM THE EDITOR: Before heading for Alaska June 10, I thought I should get our Spring Edition out, so herein are the Spring ride reports and other important news. Al and I will miss the June 13 potluck and meeting. Please write up your ride reports for the Summer Edition (June, July and August rides). I would like to schedule a ride on July 26 - Al's 60th Birthday Ride - to meet at the Mill River Recreation Area in North Amherst at 10:00 AM and end at our house with cake and ice cream and maybe more.


Marion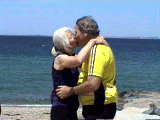 SOCIAL EVENT OF THE YEAR
Hansbury-Morris Wedding

May 23, 1998 - Joyce Hansbury and Fred Morris of Belchertown were married on the beach at Menemsha during the Freewheelers' Annual Memorial Day Weekend on Martha's Vineyard. Attended by 16 Freewheelers, who accompanied Fred and Joyce on bicycles from Webb's Campground to the wedding, and piped in by a bagpiper, this freewheeling couple was wed under a blue sky by a Justice of the Peace (John Alley) attired in top hat and tails. Bob Austin read a selection on marriage from Kahlil Gilbran's The Prophet. The wedding was followed by a delicious box luncheon on the beach and a bicycle ride to Gay Head. It was a memorable event for all. Congratulations, Mr. and Mrs. Fred Morris.

Now Showing: New .AVI movie clips from Martha's Vineyard.

!!!!!!!!!!!!!!!!!!!!!!!!!!!!!!!!!!!!!!!!!!!!!!!!!!!!!!!!!!!!!!!!!!!!!!!!!!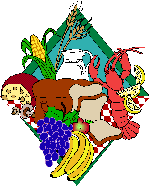 March 14, 1998 - MINUTES OF THE MEETING AND MORE

A big turnout for the early spring potluck/meeting. Thirty-five cabin fever, hungry bikers convened at Jack's house. We ate while the snow fell outside and we talked of warmer riding.

Treasurer's Report: Al reported that we had $ [..] in the kitty.

Newsletter: Marion brought the winter/spring newsletter to the meeting, thus saving postage. Thanks Marion.

March 19: Meeting in Turner's Falls to debate accepting the Mineral Road Bridge as a bikeway. Our club uses this bridge on rides; it has a great view. Let's hope it passes.

March 19: New England Rail Trails. A slide presentation by Craig Della Penna, to be held at the Easthampton Library. Help educate the public about the fun on rail trails.

April: Our rides begin! Watch for the ride schedule, or check out our web site at: http://members.aol.com/gofhf.

May 16: Franklin County Bike Day. To be held behind the courthouse, YMCA [in Greenfield]. Al and Marion will be leading a ride.

LAB: Sally motioned that the club send a donation to LAB to help fend off the IRS. Motion seconded and moved. [A thank you note has since been received from LAB]. GEAR to be held in Wellesley August 14-17.

Barb Rich: Gave us an update on the Easthampton Bike Path. All property should be bought by April and a design in place by the fall. Matching funds will need to be raised. Williamsburg is also moving along on its bike path.

Slide Show: Al and Marion, once again, dazzled us with beautiful scenery, this time of the vistas, fjords and mountain passes of Norway.

Next Meeting: June 13 and Pat and Mike's house. Ride first, hot tub, then eat! [Unfortunately it rained most of the day, so the ride and hot tub were cancelled]

Respectfully submitted,
Pat Vinskey

!!!!!!!!!!!!!!!!!!!!!!!!!!!!!!!!!!!!!!!!!!!!!!!!!!!!!!!!!!!!!!!!!!!!!!!!!!

April 12 - DOUBLE DOWN - John Clifford, Coordinator There were 24 riders. It was a beautiful, sunny day, warm enough to bike in shorts and bike shirt. One rider, a friend of Beth and Pete Sutch's, was from Germany. Several cyclists biked to the ride. We regrouped at the information center in Look Park, where rest rooms are available. The train was running, we were biking, and it was spring again.

N
E
W
S


Announcing

At the beginning of the ride, Elaine shared with us the news that Don Maynard's son's wife had a baby [boy] on Don's birthday, that he weighed 8 lbs., 5 oz., the same that Don weighed at birth, and that he had a shock of black hair just as Don had when he was born. That's just too much to be a coincidence. Don is back again! Welcome back, Don!


Marion


N
E
W
S

April 19 - UP AND DOWN THE RIVER - Al Shane, Coordinator
A rainy day. A multi-club ride that usually draws 40 riders, drew eight. 12 showed up, but 4 decided they did not want to ride in the rain. Eight hardy souls rode; seven completed the ride. It stopped raining midway, but we decided to omit Poet's Seat, since it was still overcast. The highlight of our ride was two great blue herons in flight and two wild turkeys in a field on River Road. I think only Julie, Al and I saw them. All riders were Freewheelers but since Al and I belong to the other clubs, too, I think we can say all four clubs were represented.
Marion
April 26 - TOUR OF THE HAMPTONS - Barbara Rich, Coordinator
Sixteen riders met in Easthampton for a ride through the four "Hamptons". Weather was gray but dry to begin with..... We headed through Easthampton and Northampton over to the first stop at the Williamsburg General Store (still dry). Some riders took the scenic route to this stop! The ride continued on towards Westhampton with some energetic individuals taking the optional side trip UP Chesterfield Road. The rest of us went 'round the hill to the lunch stop at Outlook Farm in Westhampton. By the time everyone had regrouped, it had started to rain so some people headed home early. Others continued on - Joyce had a flat tire, but was last seen on the side of the road with Fred helping with repair duty. About nine riders did the full 36-mile route with the last half in cold rain. A good ride... but better in sunny weather!
Barbara
May 3 - AROUND THE RANGE - Jack Fitz-Gibbon, Coordinator
Fourteen riders set out from UMASS/Amherst on this traditional early season ride around the Holyoke Range. Fred arrived, having bicycled directly from his house in Belchertown to the Robsham Parking Lot, only to experience a flat tire before the ride even began.
The day was cloudy, and although it had rained early in the morning, the rain held off for the remainder of the day. It was actually quite pleasant riding weather. It was cool and not too humid.
The route was changed slightly this year. Instead of the traditional "lunch stop" at the Old Mill in South Hadley, the group rode two extra miles down Route 116 to the Village Commons for lunch at the Tailgate Deli, a move which was appreciated by all. Due to the warm weather conditions and abundance of rain early in the season, the countryside was in full bloom (read "allergies").
A few hardy souls braved the ascent of Mt. Holyoke, but the rest of the pack was content to move on to the fields of Hadley and back to Amherst. The pace was relatively quick (15 mph) and a good time was had by all.
Jack








May 10 - THRILL OF THE HILL - Russ Loomis, Coordinator
Rained out I believe. However, I just happen to have the report of last year's Thrill of the Hill, which for various reasons, never got into print, and here it is, better late than never:
June 22, 1997
Fifteen cyclists left the Dunphy School to ride up Ashfield Road and climb up into the DAR State Forest. The weather was very hot and humid so we regrouped before continuing the climb into Chesterfield. Once in Chesterfield, we had some rewarding downhills. We regrouped again and eleven opted to go the long route of 42 miles, the other four returned on the 28-mile version. After we all got back, we relaxed with ice cream at the Williamsburg General Store.

Russ












May 16 - NORTHFIELD RAMBLE - Al & Marion, Coordinators
Al and I have been leading this ride as a part of Franklin County Bike Day for the past few years. A variation of the original Northfield Ramble, this one leaves from the parking lot behind the Greenfield Courthouse, where the bike day festivities take place. This year 12 very congenial riders participated in the ride.
Our first stop was the Turners Falls Fish Ladder, which very conveniently was open, and was a first-time experience for some of the riders; they saw shad run. Next stop was the Millers River Bridge, which now has concrete barriers that allow bicyclists and pedestrians through. The dirt mounds had not been removed yet; I expect that will happen next. Meanwhile, we had to lift our bikes over the mounds, as usual.
A leisurely snack stop at the Northfield Utilities Picnic Area followed, and another at the Gill general store, which is open on Saturdays and has ice cream bars and Gatorade and other good things. Perhaps we should always schedule this ride on a Saturday.
We returned to the ride start just in time to watch the Schwinn Bicycle Stunt Team perform. Wow! Those guys are crazy - but good! Somersaults off the ramps! And more. Al and I watched both the 1:30 and 3:00 PM shows. In between, we walked over to the Common, where the Greenfield Classic Day (a crafts and food fair) was taking place, to hear Quetzal perform. All this on a hot (88° F) day.
Marion
May 22-25 - MEMORIAL DAY WEEKEND ON MARTHA'S VINEYARD - Sally Peters & Bob Kowaleski, Coordinators
There were 16 FHF'ers [18 total cyclists] in our group this year, and the weekend was going to be very different from previous ones - thanks to Joyce & Fred and Outback Ovens®.
GETTING THERE: Al Hathaway, Bob and I made plans for a side trip to REI in Framingham as part of our journey eastward. We made our connections perfectly and had time to get an ice cream before our ferry (the freighter) left. We were officially on VACATION; we were eating ice cream and riding our bikes for transportation.

THE BAKE-OFF: Al Hathaway & I had been planning a bake-off ever since we camped at Molly Stark [State Park] last October. The competition was friendly and all the campers benefited from our efforts to outdo each other. Al and I had brought stuff to bake. I was going to take a tube of slice and bake chocolate chip cookie dough and make bar cookies in my oven. Al was making brownies - always a hit! The preparations were the center of attention. Then the wait...no peaking allowed. We each hovered over our MSR stoves, keeping the oven's thermometer in the BAKE zone. Then, drum roll please, the unveiling! Al cut up his brownies and there was a bunch of hands all reaching at once. Then I cut my cookie bars, poof, they disappeared! Round 1 was a draw. On Saturday morning, Al made coffeecake from scratch - YUP, scratch! I made Pillsbury cinnamon buns from a tube. Once again the grabby hands were right there. There's only the quick and the hungry in this group. I lost a style point for burnt-bottom buns, but gained it back with gooey frosting on top. Round 2 was a draw. Saturday night I made wedding cake while Al made gingerbread. My entry had frosting; Al's had whipped cream...Pat and Mike wanted to take the can of whipped cream into their tent before the gingerbread was even cooked...hmmmm. Round 3 was a draw also. And so it continued, baked breakfast goodies and desserts every morning and evening! We even baked in the drizzly rain on Monday evening. At the end of the weekend, we declared the bake-off a draw and a huge success. Black Dog Bakery, eat your heart out!

THE RIDING: Oh yeah, we DID ride our bikes in addition to eating. Saturday was the wedding group ride; the weather was fabulous! Sunday we rode in smaller groups to Chappaquiddick, the Mytoi Garden and the beach. Again, the weather was great. (Bob Austin and Al Shane even went in swimming. Julie Miles almost did.) Monday we went to West Chop (Marion & Al went sea kayaking) and had plans to go to Lambert's Cove beach. Rain spoiled the Lambert's Cove portion of the plan, but we had a nice lunch at the deli that catered Fred & Joyce's luncheon. Then we toured the shops of Vineyard Haven.
THE FAREWELL: Webb's Campground has been purchased by a group that plans to turn it into a golf course! Rumors abound about the future of the place and nothing is final. The golf course proponents have sold memberships for $100,000 to about 20 prospects (golf futures??). Opponents are rallying to fight the sale and keep the land available as open space. Who will win? Not us, but there is another campground on the island. Al, Bob and I checked it out during a break in the showers Monday afternoon. We talked with the owner and learned his policies. We have to book in advance and give him a deposit, but the group rate is only $7.00 per person per night. There's a rule as to how many tents and people are allowed per site. So next year people are going to have to commit early and with $$$. The sites are more formal, laid out in nice, tidy rows, side by side. We can get ones in the back of the area, away from the RVs and noisy generators. All in all, it should be suitable, just not as easy going. On Tuesday, the remaining campers said "farewell" to the staff at the campground office and headed for the ferry. The campground will let us know early in 1999 what the plans are for the land. We hope the sale falls through and the campground remains a campground. Stay tuned!
Sally
May 31 - SOUTHAMPTON SHUFFLE - Bill Burgart, Coordinator
Thought it was rained out, did you? So did we. So did Bill. We were on our way to Easthampton in our van when it began to rain hard, and the rain was accompanied by thunder and lightning. We pulled over to a gas station and called Bill. He said it was pouring there, and hailing as well, and that he would drive to the ride start but that he didn't think anyone would show up. We turned around and went home. That evening we got a call from Beth Sutch. Four people showed up, but no Bill. Just as they were about to phone him, he showed up. The rain stopped and they rode. What can I say? We should know better. Just do it, I guess.

Marion




---
OTHER BICYCLING RELATED NEWS
Amherst Bulletin Article:

Bicycle tickets planned in spring
Next spring, if bicyclists ride against traffic or run red lights, they could be pulled over and fined.
The Police Department, working with Town Counsel Robert Ritchie, has identified about 35 infractions that could lead to fines of from $5 to $15. Bicyclists riding at night, for example, could be fined if they don't have helmets, headlights, and read and side reflectors. They could also be fined if they listen to a Walkman® while riding or don't use hand signals when turning.
Ritchie says the town hopes to increase bicyclists' awareness of their responsibilities. Bicycle patrol officer William Koski says that he will be seeking to stop cyclists from flagrantly flouting traffic laws.
"We see this as a sort of consciousness-raising," Ritchie said. "It's not intended to be reactionary. The idea is to encourage bicycle use by making sure everyone understands the law."


Bikeway Update - Nov. '97
Design and Engineering


Design and permitting of the first three phases of the proposed Franklin County Bikeway continues into the Fall with the completion of base data collection and the start of preliminary design. Greenman-Pederson, Inc. of Marlboro, MA is conducting the work, and has been busy surveying the area, flagging wetlands, identifying other environmental constraints, and meeting with representatives of the various regional and municipal bikeway committees, and Northeast Utilities. Preliminary design hearings should take place after the start of the new year. Stay tuned...


New Routes

Two new spurs have been added to the overall Bikeway plan for Franklin County. A Leverett spur will connect Greenfield with north Amherst via Greenfield Road through Montague Center to Montague Road in Leverett. Another spur through Montague will connect Northfield to Sunderland via East Mineral Road, Pleasant Road, Old Northfield Road and Depot Street in the Lake Pleasant and Montague Center villages. Both of the planned spurs will be shared roadways, using scenic back roads through the beautiful Franklin County countryside.

BICYCLING IN THE PIONEER VALLEY by Marion Gorham
Published by New England Cartographics, 1998.
It should be in the stores any day. It has been at the printers for some time now. Watch for it at Hastings, REI, Wildwater Outfitters and area bookstores, including the one in Buckland next to McCuskers, alongside Great Trails of the Northeast and Hiking in the Pioneer Valley. There will probably be a book signing, but not until Al and I get back from Alaska.

Marion